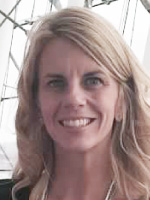 Heather grew up in Plattsburg, Missouri and has settled in the Kansas City North area. She began her career as a registered nurse in 2001 at Truman Medical Center in the emergency department. She left Kansas City in 2004 to explore travel nursing and has worked in many outstanding institutions such as Massachusetts General Hospital and The University of California-San Diego. She returned home in 2007 and worked in the ER at St. Luke's Northland before completing her graduate degree.
Heather graduated from Saint Luke's College of Health Sciences in 2019 with a Master of Science in Nursing-Family Nurse Practitioner and is board certified. She is a Certified Emergency Nurse and a member of both the American Academy of Nurse Practitioners and the Association of Missouri Nurse Practitioners. Heather enjoys caring for individuals in all stages of life and likes getting to know her patients on a personal level. She believes this relationship helps develop the best individual plan of care for her patients.
In her spare time Heather enjoys being with her friends and family. Her three children, Saylor, Stella, and Jack are active in cheerleading, softball and football. She enjoys cheering them on all year long and traveling to new destinations whenever possible.