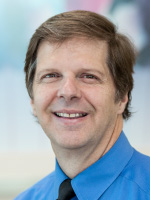 Daniel Roney, MD, is a lifelong Northland resident and the senior member of Northland Family Care. He graduated from Winnetonka High School in 1981. He then attended the University of Missouri - Columbia, graduating summa cum laude in 1985. He attended medical school at Washington University, in St. Louis, Missouri, earning his medical degree in 1989. He completed his residency training at the University of Kansas Medical Center in 1992 and joined Dr. Richard Bowles and Dr. Thomas Vinton in private practice at Northland Family Care.
Dr. Roney enjoys the wide variety that family medicine offers, as well as the opportunity to get to know his patients on a personal level. He particularly enjoys caring for hospitalized patients, and the challenges that they present.
Dr. Roney is active in Beth Haven Church, where he has attended since age 4. He has served as an elder and taught Sunday School for several years. He enjoys spending time with his wife Melinda and their three sons. He is actively involved in the activities of his three sons, Brandon, Joel and Alex. He is an avid sportsman, enjoying activities such as waterskiing, snow skiing, fishing, and a variety of spectator sports.
If you would like Dr. Daniel Roney to be your primary care provider, please contact our office at 816-781-4740 to schedule your appointment today.