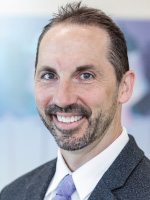 Dr. Steve Nelson grew up in Kansas City and graduated valedictorian of his class at St. Pius X High School. Following High School, he attended Rockhurst University and graduated with a Bchelor of Science in Biology. He then attended Creighton University School of Medicine located in Omaha, NE. He completed his residency training at Baptist Medical Center in Kansas City.
Dr. Nelson has been practicing with Northland Family Care since 2001. He provides care for patients in our clinic as well as inpatient adult and pediatric care at Liberty Hospital. Dr. Nelson's goal is to provide his highest level of care in a compassionate manner. Developing a trusted physician-patient relationship that his patients can rely on is a top priority for Dr. Nelson. He is a Board Certified Family Practice Physician, and enjoys all aspects of Family Medicine, particularly Pediatrics and Sports Medicine.
When Dr. Nelson isn't working, he enjoys spending time with his wife Lisa and their two sons, Matthew and Trevor. He coaches his sons' sports teams, volunteers with their school and local charities and is an active member of St. James Catholic Church. He also enjoys watching and attending various sporting events as well as playing competitive sports such as basketball and football.
If you would like Dr. Steve Nelson to be your primary care provider, please contact our office at 816-781-4740 to schedule your appointment today.