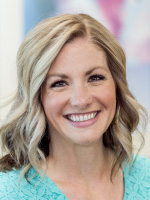 Beth has lived the Kansas City area most of her life. She attended high school at North Kansas City and earned her BSN from Missouri Western in May 2006. She went on to graduate in December 2014 from the University of Central Missouri with her Masters degree as a Family Nurse Practitioner.
Professionally she spent her time as an RN working at Truman Medical Center in the emergency room setting. Since completing her masters, she has worked as a Nurse Practitioner in Urgent Care/ER and Family Practice settings. She enjoys getting to know patients and helping to develop a health plan that is personal and realistic. Her passion is wellness and prevention along with patient-centered care. She keeps it a priority to remain up-to-date on current guidelines and treatments.
She married her husband Clark in 2005 and they have two children, Max and Tatum who keep them busy and entertained. They enjoy traveling, being outdoors, and spending time with family and friends.
If you would like to schedule an appointment with Beth, please call our office at 816-781-4740.