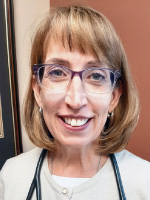 Tina Moore, MSN, FNP-C is a board certified Family Nurse Practitioner who provides comprehensive medical care to patients across their lifespan with a diverse range of health conditions.
Tina grew up in North Platte, Nebraska and has been living in the Liberty area for the past 30 years. She began her career as a registered nurse at Truman Medical Center in the OB department. She then transitioned into NICU and pediatric care, working at Liberty Hospital and Children's Mercy Hospital. She graduated from the University of Missouri - Kansas City in 2014 with her master's degree as a certified Family Nurse Practitioner. She has provided care in underserved communities, urgent care and corporate medicine settings. She has volunteered her time to work with the migrant farm worker community to provide much-needed health services.

Tina's passion for health care comes from the relationships she builds with her patients. She enjoys spending time with her patients, teaching them how to optimize their personal health in both preventative care and chronic disease support. She enjoys teaching and helping patients become actively involved in their health by creating treatment plans with shared decision making, ensuring treatment is appropriate for the needs and lifestyle of each individual.
In her personal life, Tina enjoys spending time with her husband and their two children. She enjoys cheering on the Chiefs and spending time with family and friends. In her spare time she enjoys gardening and reading and her favorite vacations are spent relaxing at the beach.