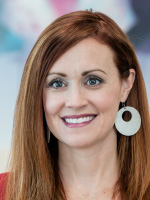 Nicole Ragland graduated from Research College of Nursing with her Bachelor's Degree in 2005. She worked as an RN at Children's Mercy Hospital and Liberty Hospital for six years. She completed her Master's Degree in nursing at the University of Cincinnati in 2011. Special areas of interest include pediatrics, women's health and diabetes.
Nicole is able to take appointments at the clinic for adult and pediatric patients who are new and established. She can order testing, labs, and prescribe medicines as needed for those patients
In her spare time Nicole enjoys spending time with her family and her friends. She and her five children stay very busy attending kids' sporting events, traveling, riding horses and volunteering. She is an active member of St. James Catholic Church.
If you would like to schedule an appointment with Nicole Ragland, please contact our office at 816-781-4740.